The first 3 days after I received my Northern Denim Co. were really crazy. I first missed the postman the other day, then I did the hot tub soaking and then I got my jeans hemmed in the Netherlands. In the Netherlands, one might say. Yeah, there was never a doubt for me where to let my pants chainstiched. First, the store is the only one around ( and I mean in a bigger km radius) second, for me it is just around the corner and they have a Union Special. So last saturday I payed Roger and his brother Marcel or Marcel and his brother Roger a visit in their beautiful store in Kerkrade, the Jeanspaleis.
They carry brands like Edwin, Spellbound, Buttero, Denim Demon, Bellrose, Denham, Jack Flynn, Atelier LaDurance, just to mention but a few. They are in the business for 35 years already and they love their business and are true denim experts. It is always fun and interresting seeing them and they are very chilled guys. If you are around, pay them a visit…
Since Roger had nothing else to do he started shortening my new and soaked Northern Denim Co. pair. I did not expect my jeans to be shortened immediately so I had no camera with me. Luckily Marcel jumped in and took pics. Thx man.
We agreed upon a length and Roger cut off the residual denim. Then he used an iron to iron up the loose ends for 1 cm in order to edge-stich the end. He used a tabacco colored yarn for the stiching of one of the legs. For the second leg s.th went wrong with the stiching so that Marcel needed to unravel the whole chainstich and do it all over again. By that time I found out that they have a lot of different yarns and colors for the stiching. After some discussion we agreed upon that i wanted to have the outer stiching in tabacco (from Denham yarn) and the inner stiching in orange (from Atelier LaDurance yarn). It took 10 more minutes and my jeans was done. Amazing, thx to Roger for his patience.
After all it was a truly amazing afternoon which was rounded up by a glass of wine. Perfect!!!
Thx again to all at Jeanspaleis and especially Roger and Marcel. See you soon!
Roger @ Union Special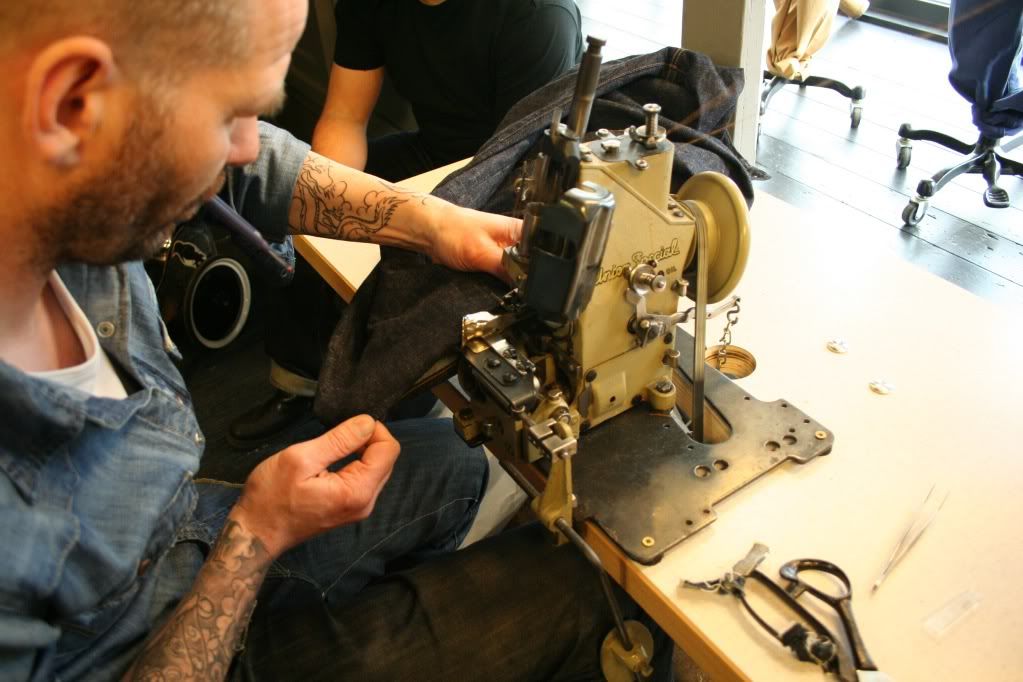 Roger @ Union Special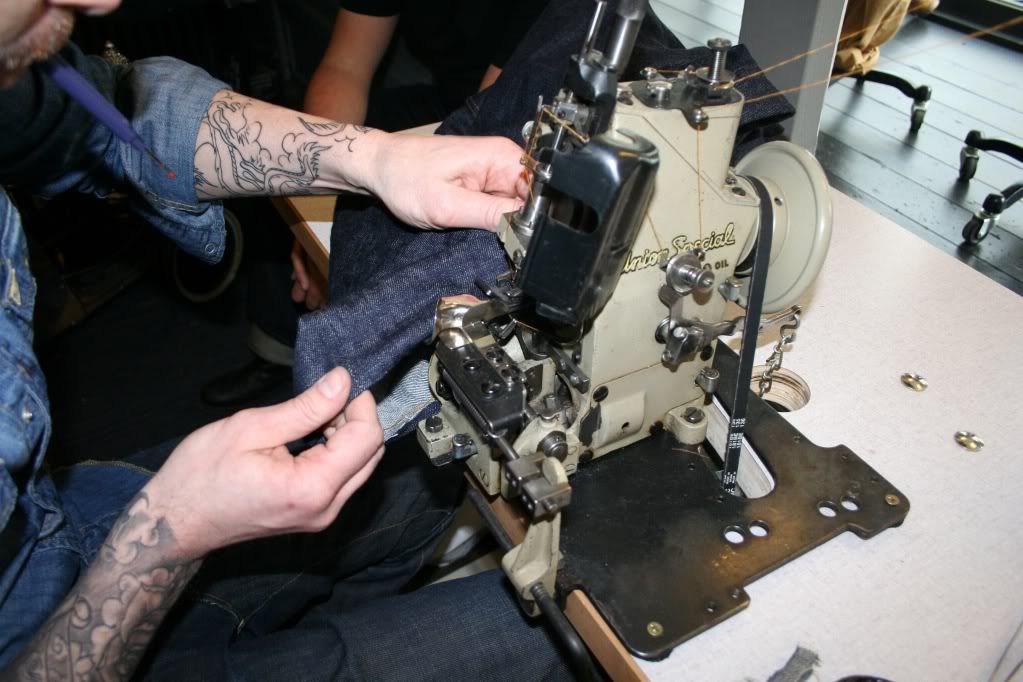 Roger and me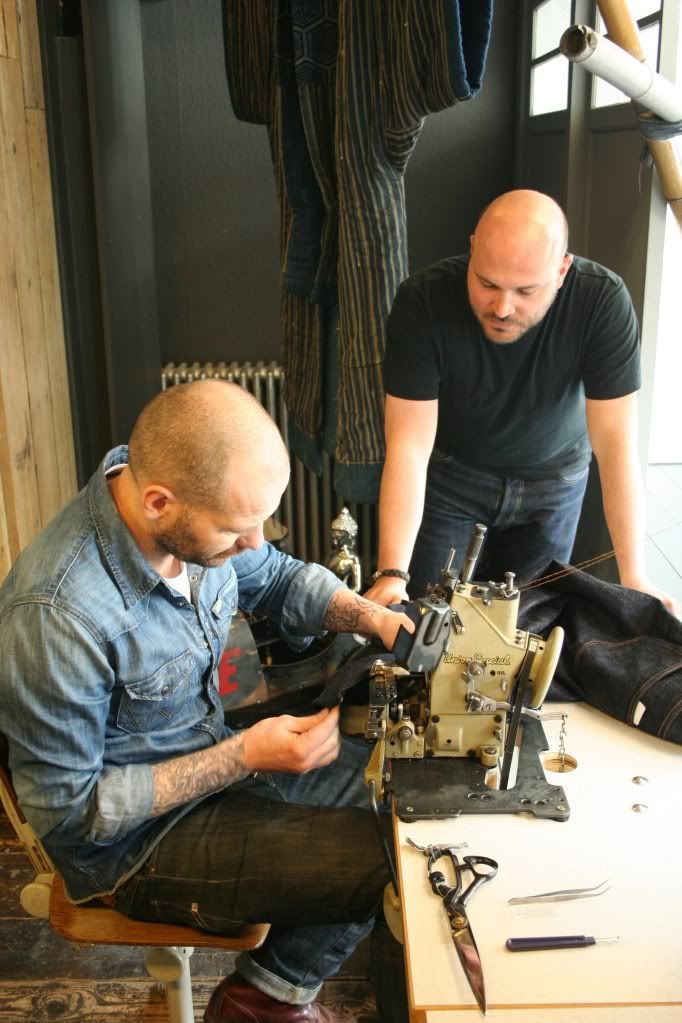 Inner stiching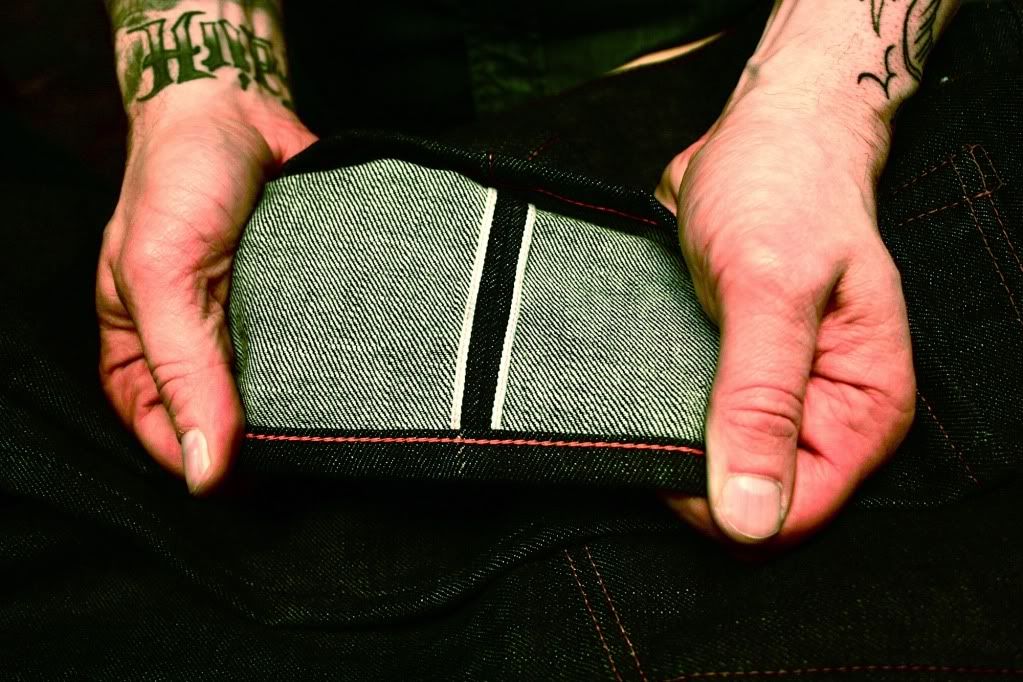 Inner (orange) and outer (tabacco) stiching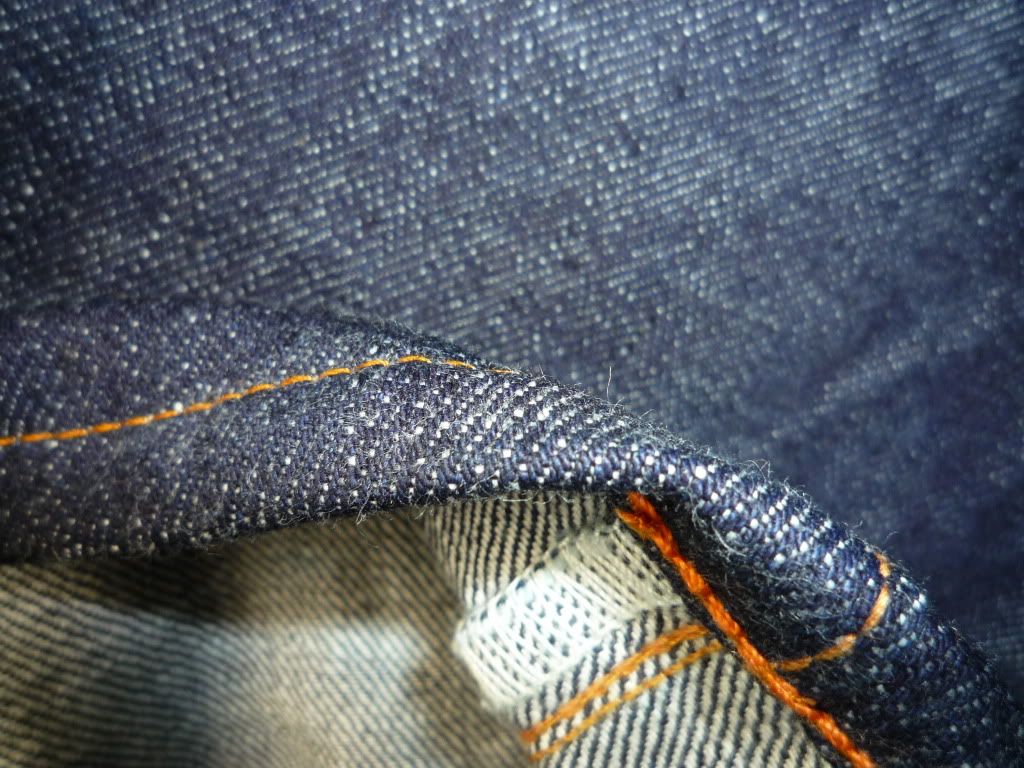 All photo credits, except the last picture, go to Marcel.